Anchorage's first mayor faced weighty issues
Aunt Phil's Trunk
Photo courtesy Anchorage Museum at Rasmuson Center, AMRC-b70-19-212
Anchorage's first mayor, elected on Nov. 29, 1920, bore the responsibility of governing a railroad town of 1,856 people after five years of Alaska Engineering Commission management ended.
When Judge Leopold David became Anchorage's mayor, he helped the new city council develop ordinances to provide law and order. They included establishing a 9 p.m. to 5 a.m. curfew for youth under 16, setting a speed limit of eight miles per hour in town and outlawing spitting in public places.
David, an immigrant from Germany, came to Alaska in 1904 with the U.S. Army and served as a pharmacist's assistant in the Hospital Corps at Fort Egbert. After his discharge a year later, the 24-year-old settled in Seward, married Anna Karasek and managed the Seward Drug Co. Like many pharmacists of the time, his basic medical knowledge earned him the title "Dr. David" among the townspeople.
Ever public service minded, he served as the U.S. Marshal at Susitna Station in 1909 and also as a U.S. Commissioner at Knik when he moved there in 1910. It's believed he studied law while living in Knik and served as ex-officio probate judge.
David continued his role as Commissioner and District Recorder after he arrived at Ship Creek in 1915 and affixed his signature to almost every land transaction in the new community.
When he became mayor in 1920, he faced a few issues of the illegal nature. Documents for land use for Anchorage's townsite stated the property was not to be "used for the purpose of manufacturing, selling or otherwise disposing of intoxicating liquors, or for gambling, prostitution or any unlawful purpose." However, those vices flourished.
Thirty or 40 women "entertained" construction workers in tents and shacks southeast of town, but they were forbidden to mingle on the main street with the townspeople. Anchorage also had 11 billiard and pool halls that inevitably drew a gambling crowd.
The mayor and city council tried to curtail gambling by adopting a "curtain ordinance," which required an unobstructed view from the street into "pool halls, cigar stores, soft-drink emporiums, and other businesses of a similar character." That ordinance helped somewhat, but the problem of alcohol and bootlegging proved more difficult to address. Although prohibition had been adopted in 1918, David found it virtually impossible to keep alcohol from flowing in the frontier town.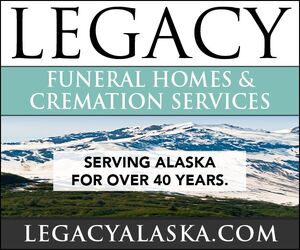 Government officials, law enforcement and teetotalers kept a wary eye out for liquid contraband. But bootleggers managed to supply those thirsty for their products by coming ashore near Anchorage in what's still known as "Bootleggers Cove," an area hidden by a bend in the shoreline along Cook Inlet.
After two terms as mayor, David, who'd passed the Bar of the state of Washington, turned his attention to his law practice with L.V. Ray. But at 43, heart disease took his life. He died on Nov. 22, 1924.
The city's first mayor is buried in the Anchorage Memorial Park Cemetery, but his headstone erroneously identifies him as "Physician and Surgeon" rather than as "Attorney at Law."
This column features tidbits found among the writings of the late Alaska historian, Phyllis Downing Carlson. Her niece, Laurel Downing Bill, has turned many of Carlson's stories – as well as stories from her own research – into a series of books titled "Aunt Phil's Trunk." Volumes One through Five, which won the 2016 gold medal for best nonfiction series from Literary Classics International and voted Best of Anchorage 2020, are available at bookstores and gift shops throughout Alaska, as well as online at http://www.auntphilstrunk.com and Amazon.com.