I'm angry and you should be too
Photo courtesy Friends of 4th Avenue Theatre
We are losing the 4th Avenue Theatre in Anchorage. Not next year. Now. The current owners/developers have already gotten a demolition permit to destroy the building and its facade. Guess what? According to several knowledgeable sources there is absolutely no rational or financial reason why demolition can't be stopped. How? Read on.
Why am I writing this? How do I describe the importance of that Alaska icon without sounding like a stuck-in-the-past emotional old lady? Well, I can't. I worked there selling popcorn and went on my first date there, so I guess I'm qualified to love it and fear its demise.
The State of Alaska Division of Natural Resources has the authority to use Eminent Domain to purchase the building. Does the state have the money? Yes.
The theater needs to be the centerpiece of a revived Anchorage core. For both residents and tourists. The 4th is not just an Anchorage landmark, it is the symbolic heart of Anchorage. For those of you unfamiliar with its history, the theater was a gift from Cap (Austin E.) Lathrop to the City of Anchorage as a symbol of permanence. In a town of timber and log buildings, it was the first in Anchorage to be built of concrete. It represents the aspirations of men and women just like you and I who decided to take a stand and make a life here.
You may or may not have heard that the company who now owns the building has saved the irreplaceable murals and artwork. Maybe, maybe not. No one has seen them. And there's been no information as to what will happen with the iconic sign. Local architects have succinctly stated that it is insane to demolish the building and try to recreate it somewhere else. If the state doesn't act quickly, the elegant staircase and lobby areas will be gone as well.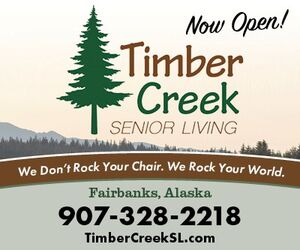 Where are we now? Electric is turned off. Wrecking ball might be there any day now. What will we get in its place? More hotels.
Courtesy Friends of 4th Avenue Theatre
Please call the Mayor of Anchorage at 907-343-7100. Call your Assembly member(s). Call the Governor at 907-465-3500. Call the Commissioner of Natural Resources, Akis Gialopsos, at 907-269-8431. Remember, Mr. Gialopsos has the authority to purchase the building and its contents via Eminent Domain.
Anchorage community, please speak. No one is asking for your money. We are asking for your voice. May the Fourth Be With Us. Forever.
Sheila Abbott Patterson is a lifelong Alaskan, and the administrative assistant for Older Persons Action Group, Inc. Views expressed here are her own.