Kenai Peninsula senior centers welcome travelers
Courtesy Kenai Senior Center
Gone are so many of the historic Alaska roadhouses that provided travelers with a meal and sometimes lodging, but senior centers across the Kenai have stepped in.
The Seward Highway to Kenai's communities is lined with breathtaking scenery from bore tides, mountains and a side trip to Portage and its glaciers. (A word about Turnagain: Do not get out of your car and try to walk on the sucking mud or you will become the center of a rescue situation.)
And once on the Kenai you have dining options.
The Kenai opens its arms
"We're open to anyone, and they can bring guests, like people visiting from out of town," said Kenai Senior Center Administrative Assistant Red Piersee.
Lunch is at noon and costs $7. People are not required to be members.
The address is 361 Senior Court, Kenai. Open Monday-Friday, 8 a.m. to 5 p.m. Call 907-283-4156.
At the Ninilchik Senior Center, Administrative Assistant Tandy Wallace said the hot lunch is at noon.
"We absolutely welcome anyone in the public, as well as guests," she said.
The suggested donation is $8 for anyone of any age.
Address is 66265 Aspen Avenue, Ninilchik. Open Monday-Friday, 9 a.m. to 4 p.m. Call 907-567-3988
At the Soldotna Senior Center, they serve lunch at noon and for visitors 55 and older, cost is $12, and for members, $7. (Membership cost is $20.)
The address is 197 West Park, Soldotna. Open Monday-Friday, 8 a.m. to 4 p.m. Call 907-262-2322
In Anchor Point, the senior center welcomes everyone regardless of age or membership to a full service breakfast. For the menu go to their Facebook page or call 907-235-7786. Thursday night dinners, 5 to 6:30 p.m., are $14 for dine in or take out for visitors, but call ahead to make a reservation, 907-235-7786. Address: 72750 Milo Fritz, Anchor Point. Center hours are Monday-Thursday, 9 a.m. to 5 p.m., and Fridays, 9 a.m. to noon.
The Homer Senior Center offers lunches from noon to 1:30 p.m. in its Silver Lining Café that include salad, soup, an entrée, dessert and beverages for a suggested donation of for $7 for those over 60, $15 for ages 12-59, and $5 for under 12.
"If they want to donate more than that it would be wonderful," said Bonnie McDermott, who oversees membership and meal reservations. "All they have to do is fill out a short form so we can get them into our database."
Reservations are highly encouraged, she said, for the kitchen to get an idea of how many to prepare for.
Courtesy Homer Senior Center
"We won't turn anyone away," she said. The address is 3935 Svedlund Street, Homer. Hours are 8 a.m. to 4 p.m. Call 907-234-7655.
Surging senior population and expense curtail meals
Executive Director Dana Paperman said the Seward Senior Center could no longer provide meals to those other than local seniors, because of escalating food costs and the increasing number of seniors. It is now focused on providing meals to those who live in Seward and Moose Pass.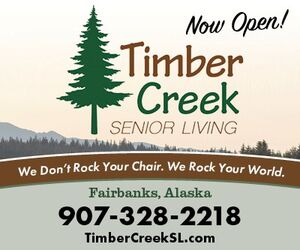 "For years, we served more and more Alaskans than ever before," Paperman said.