Got the volunteer bug? Support Hospice
Hospice of Anchorage was founded in 1980 and is a nonprofit, 501(c) (3) organization and a partner agency of the United Way of Anchorage. We typically provide all our services at no charge, except those patients that do not yet qualify for Medicare Hospice. We also offer one-on-one grief support and peer grief support groups for anyone in the community, infant to adult, who has experienced a death loss. Volunteers are a crucial function of Hospice of Anchorage's services.
Hospice of Anchorage has three full-time and six part-time staff members serving approximately 22 hospice patients and 164 grief support participants. We have volunteers that work directly with hospice patients and families, volunteers that help facilitate support groups and help around the office. Volunteers allow us to offer the high quality programming that serves our community.
The positions we are currently recruiting for are our Forget-Me-Not Facilitators. These volunteers help facilitate peer-to-peer grief support groups two Thursdays a month, from 6 to 9 p.m. There are two to four volunteers per group and there are different groups based on age and topics (i.e. miscarriage, small children, etc.). These volunteers go through a 23 hour mandatory training with our grief services coordinator. You must be able to pass a background check and be able to commit a year of service.
The next Forget-Me-Not Facilitator Training is coming up in July. You do need to be able to attend all dates. Please give us a phone call if interested to schedule a meeting.
Forget-Me-Not training dates
July 14, 6 to 8 p.m.
July 15, 10 a.m. to 3 p.m.
July 16, 10 a.m. to 3 p.m.
July 20, 6 to 9 p.m.
July 22, 10 a.m. to 3 p.m.
August 3, 6 to 9 p.m.
Elder abuse awareness
Hospice of Anchorage also puts on a free monthly educational series. This month, worldwide, there is a dedicated day for World Elder Abuse Awareness. We will be doing a presentation at our office on Wednesday, June 14 at 2 p.m. on this topic.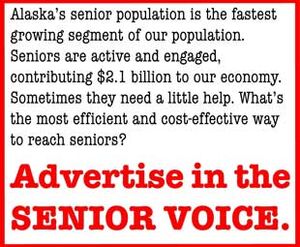 Come learn about early signs of abuse, what to do if you suspect an elder is experiencing abuse, and what happens after you make a report.
This presentation will be approximately one hour and it is limited to the first 20 people who RSVP to volunteers@hospiceofanchorage.org or call 561-5322. We are located at 2612 E. Northern Lights Blvd. Please call for more details and/or directions.