Pedaling and thriving through a pandemic
Courtesy Diann Darnall
Before Alaska International Senior Games Athlete Carol Johnson even had a bicycle, her ten-year old adventurous self was drawn to biking, learning from her grade school friends on their bikes.
Fast forward 60-plus years to an April spring day in 2020. Carol was on one of her regular outings riding around Fairbanks when she noticed her bike skipping gears, so she stopped by the local bike shop. While checking it in for service, she remembered a conversation she had in 2019 with another cyclist about his mileage tracker. Curious, Carol decided that it might be fun to know how much she biked in a summer. She picked out a tracker to be installed.
Her repaired bike rode smooth as new, and she was pleased to be logging 8 to 12 miles per outing several days a week. In addition to gaining the health benefits of exercise and being outdoors, Carol enjoys spontaneous rides checking out the community, as well as outings with friends to chat or find a geocache.
On Sept. 19, 2020, she noticed her tracker read 699.9 miles. After she shared a photo of the 699.9 with her children, daughter Katie challenged her to reach 777.7, which she did on Sept. 28. Now Carol was on a roll.
Nine days later 888.8 flashed on the screen. Quite the accomplishment! She was so excited, she challenged herself even more.
The tracker only goes up to 999.9 miles and then resets. She was a little concerned that winter might arrive any day, and she is not a snow biker. She wondered, could she really do this?
As the air temperatures dropped below freezing, Carol doubled down with two rides daily, averaging 20 plus miles a day. A glowing joy flooded Carol's face as the tracker rolled over to 999.9 on October 12. It snowed two days later.
While winter changed things a bit, Carol has adjusted. Exercise and keeping busy are still important to her. She has been searching for geocaches, taking on the Fairbanks North Star Borough Trails Challenge, cross country skiing and strength training, as well as Zooming yoga and other workout videos.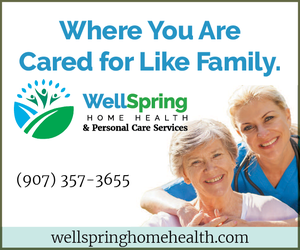 Carol is an active Alaska International Senior Games participant in many sports, including the AISG cycling time trials. While she doesn't consider herself a top woman biker in the Interior, a smile and happiness still fill her when she sees a photo or memento of her 2020 summer biking. Her joy of meeting her personal challenge is priceless.
Thank you, Carol, for your great example of how setting a goal can be motivating to stretch yourself and challenge your limits.
Diann Darnall is the director and board president of the Alaska International Senior Games. The 2021 Alaska International Senior Games for those age 50 and older are scheduled for August 6-15 in North Pole and Fairbanks. For more information about AISG go to https://www.alaskaisg.org.