Senior Voice wins awards
Senior Voice has been recognized for excellence, winning seven awards in the annual contest sponsored by the North American Mature Publishers Association (NAMPA), a nationwide network of publishers focusing on boomer and senior readers. Awards were announced Sept. 21, 2023, at the annual NAMPA conference, held virtually online this year.
Entries were independently judged by faculty of the University of Missouri School of Journalism in Columbia, Missouri, who gave awards in categories based on the circulation size of the publication. Senior Voice entries competed in Division A, for circulations below 25,000.
Longtime Senior Voice reporter and travel correspondent Dimitra Lavrakas won first place in the Travel Column category for her story in the December 2022 edition about last minute flights and airfares for funeral travel, and another article covering rules and legalities of flying with cannabis.
Senior Voice contributor Dr. Emily Kane won first place in the Senior Issues category for her health advice columns. "This is just a terrific set of columns by a trained physician who has landed on a writing style that delivers serious medicine with a light touch," noted the judges. "Her ability to unpack the most complicated medical issues into understandable text is remarkable."
In the Personal Essay category, contributor Lawrence D. Weiss won second place for his story, "My adventures at the Mayo Clinic in Phoenix". Judges wrote, "Weiss tells the story in a fun, self-deprecating way, and he gives lots of good details about the high quality of cancer care he received, even without the spicy food to lift his spirits".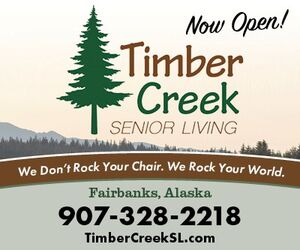 Weiss also won third place in the Topical Issues category, for his roundup of free bus services around the state, published in the June 2023 edition.
Contributing writer Leslie Shallcross won third place in the How-to or Do It Yourself Feature category for her story in the August 2022 edition, "In praise of pickling and fermenting your food." Judges appreciated the start-to-finish instructions for would-be canners, and said the article is "generous in its thoroughness".
Senior Voice won third place in the Front Cover Photo category for its December 2022 cover. The photo of an American dipper perched on an icy stream, by Myron Wright, was provided by Bird TLC to accompany their story about Alaska birds' winter adaptations. "The overall cool hue is striking, yet the American dipper still pops against the lighter snow," wrote the judges.
Senior Voice and Older Persons Action Group, Inc., also earned a third place award in the Senior Resource Guide or Directory Design category for the 2023-25 Directory for Older Alaskans.
Senior Voice is a publication of Older Persons Action Group, Inc., an Alaska nonprofit organization that serves Alaska seniors and their families. OPAG has been publishing Senior Voice for 46 years and is partially funded by a grant administered through the Alaska Dept. of Health.
"The commitment of our fantastic writers and contributors is what keeps winning awards like these," said Senior Voice Editor and OPAG Executive Director David Washburn. "I'm especially pleased that the Older Alaskans Directory received recognition, as it was a big project requiring the hard work of numerous people."
Senior Voice articles, including the award-winners, can be looked up using the search window on the Senior Voice website, http://www.seniorvoicealaska.com.