Fairbanks has its own Aging and Disability Resource Center
Services now reach into the most remote corners of the state
In Fairbanks, the North Star Council on Aging's new Aging and Disability Center (ADRC) is going "full blast," said Beth Grey, program coordinator for senior services.
"We just opened October 1," Grey said. "We weren't supposed to open until January 1, but with the new regulations we opened early. We call it a soft opening phase, but it doesn't feel like that."
There should be an open house in January, Grey said, once the program gets solidly on its feet.
For the last 10 years, Fairbanks was served out of the Soldotna ADRC office, Grey said. Additional ADRCs across the state now cover more contiguous areas and the new Fairbanks office will serve Fairbanks North Star Borough, Southeast Fairbanks, Denali, Yukon-Koyukuk, and the North Slope – a huge area.
Grey, who was a teacher on the North Slope and in Fort Yukon, said the transition to senior services was a natural one for her, guided by her experience growing up in a multi- generational home. So it was a short jump from kids to seniors.
"This is what I love – having direct contact with people and helping them problem solve," she said with much enthusiasm.
Give her a call at 907-452-1735.
Easily available senior resources
Like Fairbanks, other centers offer highly visible and trusted places where people of all incomes and ages can turn for information on the full range of long-term support options, and a single point of entry for access to public, long-term support programs and benefits.
That's what the state Department of Health and Social Services Senior and Disabilities Services office aims for. "Person centered," each location is the initial point of contact for long-term services, where counseling and transition assistance is offered regardless of pay sources. Counselors also help streamline eligibility, especially for individuals who have the greatest need for immediate services.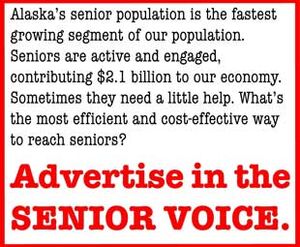 Most importantly they empower individuals to make informed choices about available services through options counseling, which is a process that focuses on the person and their unique situation by putting people in charge of defining the direction for their lives, rather than focusing solely on service systems.
Survey suggests satisfaction
In a 2012 Alaska Div. of Senior and Disabilities Services survey, ADRC noted that it was clear that, as a group, clients received an invaluable level of service. Although the survey interviews required only about five minutes, some calls lasted closer to 30 minutes as respondents used the opportunity to talk about their lives and how the ADRC had helped them.
Sixty-three percent had already made positive changes in their lives, and another 28 percent were in the process of making changes, or at least knew what they were going to do. In combination, that represents about 90 percent of respondents. Similarly, 95 percent of respondents indicated the ADRC had helped them, either "a lot" (75 percent) or "some" (20 percent), and 93 percent said they would recommend the ADRC to others.
ADRCs around the state
For contact information for all of the state's ADRCs, visit http://dhss.alaska.gov/dsds/Pages/adrc/default.aspx